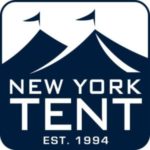 Scroll Down
---
Each tenting concept is a unique vision, carefully planned and assembled. At New York Tent, we understand the complexities of organizing and producing spectacular events. Attention to detail, technical know-how, skilled assemblers, and quality materials allow us to achieve, and exceed our clients' expectations each and every time.
New York Tent has been producing sensational tented affairs since 1994, operating out of a 60,000 square foot, state-of-the-art facility. From world class sporting events and large music festivals to corporate galas and luxury social events, New York Tent services clients' needs with hands-on planning and a sophisticated design sense that is key to executing every event with flawless precision.
Fonts


Concept
New York Tent was looking to design its website to utilize all the latest web technologies available along with introducing new features, an updated interface and leverage the latest WordPress CMS Framework. The new website provides its users with an entirely web-current online presentation which is easy to navigate, simple to find information and an effortless approach to browsing on multiple browsers and devices including mobile platforms with a responsive layout system.