Social media has become a dominating force when it comes to business strategy and marketing plans. 50% of shoppers have made purchases on the recommendation of social media content. This combined with the sheer number of active social media users and the amount of time that people average spending engaging with social media content, it is clear to see that social media is one of the most important areas that a business can focus their attention on today.
Sometimes business engagement and social media marketing on different platforms can seem like a no brainer. It is basically impossible to ignore the impact that Facebook, YouTube, and Instagram can have on your business. But there are other social networks and platforms that can also be offering your business a lot of benefits if you choose to include them in your social media plan.
Enter Snapchat. This platform isn't new, but it is now a viable competitor to the other social juggernauts. One key point to remember is that Snapchat has a huge youth following and user base, so when looking to the future of social media business strategies this has to be considered. 78% of internet users between the ages of 18 and 24 use Snapchat and in 2018 was the preferred social media platform of 45% of teen users. With over 200 million active daily users and 54% of Snapchat users logging in every day, this has become a very important audience for businesses to navigate tapping into.
Let's take a look at some of the best ways you can be using Snapchat to benefit your business.
1. Deliver Live Content Access
Live media marketing is an interesting new tool for advertising and offers a unique type of engagement with your audience. Giving your viewers access to live events can capitalize on the ability of social media to break down walls between them and your brand. You can show one of a kind live experiences like product debuts or special events. This authentic look at important events is like a special look at the inner world of your brand and builds an intimate and more personal customer relationship.
2. Utilize Snapchat Insights For Access To Valuable Marketing Data
In all marketing, but especial social media interactions, understanding your audience is everything. Your audience is everyone interested in your brand and anyone who might value or benefit from what you offer. Determining the qualities that your audience share in common is of vital importance to tailoring your content and delivering the most valuable social experiences. This information can be used to craft content that builds interaction, boosts interest, captures attention and encourages further action with your brand.
Every tool that can help you learn more about your audience and deliver a comprehensive understanding of what they are looking for can help you know who to target and how best to do so.
Snapchat has a built in analytic tool called Snapchat Insights which can show you your viewer count organized by time frame, viewer information such as age, gender, and location, and give you important metrics on engagement types, times, and frequency. One really cool metric you get with Snapchat is screenshot count, showing you how often people want to save pieces of your content.
3. Deliver A Feeling Of Current Relevance
Snapchat content only exists for 24 hours, so when you post content and stories your audience knows that they only get to see it because it is the current thing happening. Following your account lets people have a constant current look at what you are up to or at the very least lets them know that what they are viewing is only available because of their interest and attention. This kind of immediate and fleeting content is very rewarding and feels much more personal.
4. Take Advantage Of Frames, Emojis, And Captions
Presentation is such a big part of Snapchat. These customization and design features offer a creative flare to your content. Different borders and frames can change the vibe of a picture to fit the goals you have with your content and emojis and pinned video emojis that follow a moving target just allow for some great fun.
Another cool feature is audio manipulation. Visual filters can be really cool, but Snapchat also offers audio filters to distort or alter the audio of your content. This can be used in interesting or humorous ways that can be really great for building interest and standing out.
Grabbing your audience's attention is really important and many of these Snap features can help you capture and hold this attention.
5.Utilize The Growing Popularity Of Augmented Reality Features
One area that Snapchat has been really vital in developing within the social media landscape is Augmented Reality (AR). This takes the form of lenses, filters, and masks that can not only alter images in cute or quirky ways, but also video content. Other platforms, such as Facebook, have now recognized this popularity and are trying to make this type of content a priority going forward.
These features just add another layer of attention grabbing and can help show of a brand personality. Lenses can be by 3rd parties, and Snapchat users have created more than 600,000 AR lenses for this community. There has even been success in captured Snapchat AR content going viral and becoming proliferated across other social media platforms. All of this makes AR very important going forward and consulting with a web design company to see how AR could work for your marketing ideas could be great for the future of marketing.
6. Snapchat Ads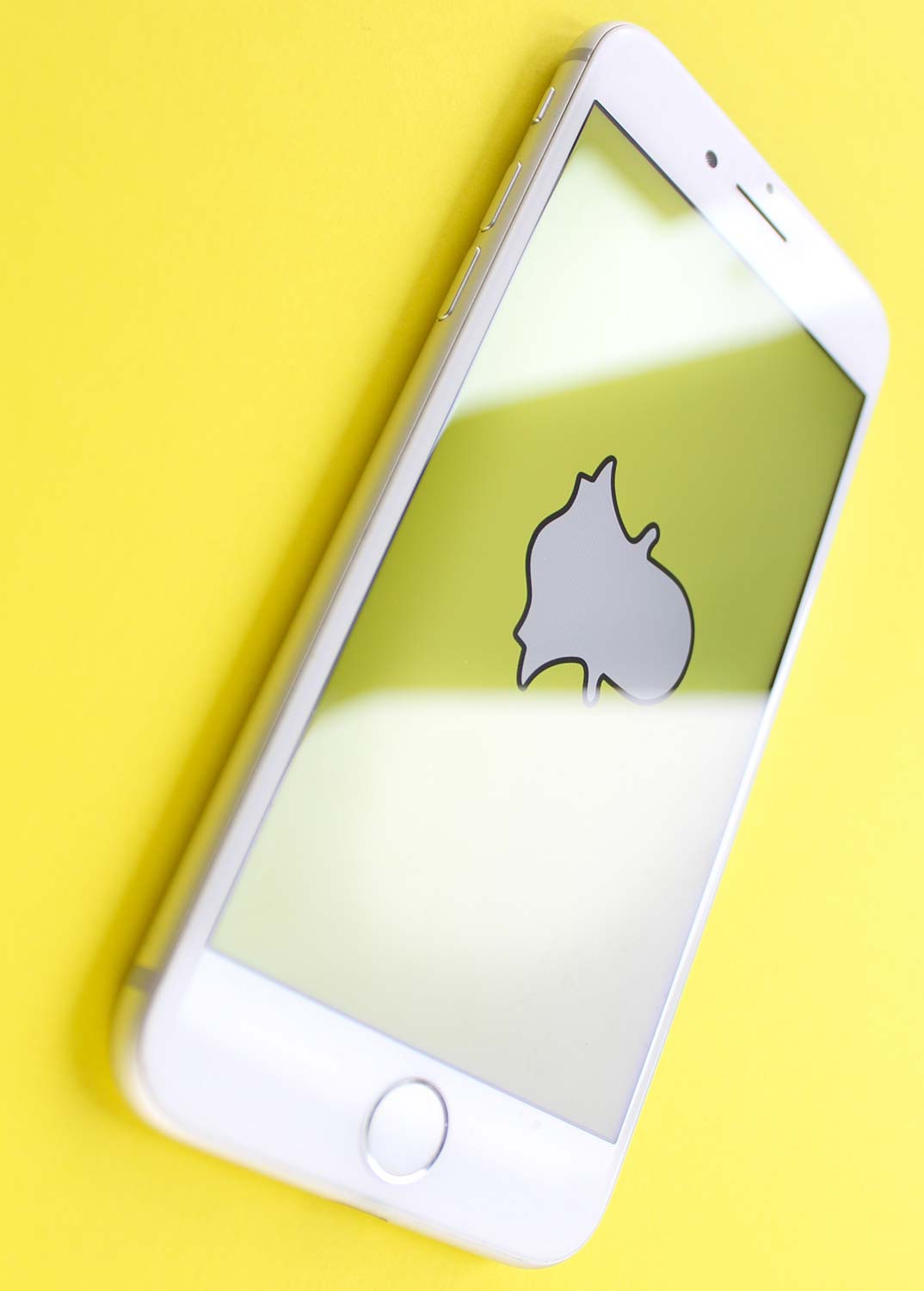 There are several types of Snapchat ads that can help you grow your following faster:
These full screen video ads last 10 seconds and can be used to drive website traffic, deliver branding information, or even promote apps and marketing promotions
Lenses and filters are fun and engaging and you can offer these with branding and logos that people will then use. These can be fun and interesting for your followers while helping you push your branding to wider audiences.
Geofilters are graphic formats that can be overlayed by Snapchat users on their posts. These are location specific so posting with them as overlays relies on being at a specific place when posting. By creating branded geofilters you can offer a kind of social status mark connected to your business. This can be especially impactful in promoting special events for your brand. On demand filters are similar but can be used for really small areas and are often very affordable to present live.
7. Interact With Snapchat Users
The boon of all social media is being able to interact with you audience. Take advantage of this to build a more personal relationship with your viewers, particularly in showing appreciation for interactions related to your brand.
View and respond to other users' stories. This can be a great way to build engagement by showing your engagement with your audience as well. Social media users are there to be SOCIAL. So get out there and socialize.
8. Use Private And Exclusive Content
Customer loyalty is huge for a brand and one of the best ways to strengthen this is by delivering exclusive content to followers. Content that is only available to followers of a particular platform is a great way to reward users for their patronage. There are many great ways to use private content to your advantage and give your followers a feeling of being in your inner circle.
This could mean sharing Snapchat-exclusive content, special news and insider information on new products or services, special events, or to offer your followers special or first access to promotions, discounts, and contests.
Contests can be very engaging to your followers. An example is offering a chance to win something interesting by snapping with your product or while using a follower exclusive tagline. By rewarding your community you will be showing how their engagement bring them added value and this will in turn allow for stronger brand loyalty.
9. Partner With Influencers
Influencer marketing is taking over social media platforms. One common idea about Instagram teasing the possibility of removing likes from posts is that this is because influencer marketing has largely depleted advertising investment into Instagram ads and transferred it to influencers. The point is, influencers are effective and if you can identify influencers that represent your brand style and have a following that aligns with what your business offers, then this kind of promotion can be hugely valuable to you. Increasing your popularity and expanding your reach to wider audiences is the goal, and by building small partnerships with the right influencers your can do all of this.
Youth audiences and young millennials can be a very important audience and if they are a target for your marketing strategies, Snapchat is a platform that is very worth looking into. There is a pretty wide range of advertising and branding techniques that Snapchat has to offer and as a rapidly growing platform, these should be considered whether you are a small startup or a large corporation.