If you have yet to focus on your local search, then you are not fully optimizing your digital marketing campaign. The 2021 research by Milestone underscored the critical role that local search plays in businesses' overall online marketing strategy. The study sought to answer the most pressing questions on which channel funnels more website traffic.
More importantly, it sought to identify which channel has the highest conversion rate over a consistent period. As you might glean from the graph below, organic search still dominates the digital traffic rankings, bringing in 46.5% of the total website visits. However, what may surprise you is the local search, which was a clear second in terms of traffic, with 22.6%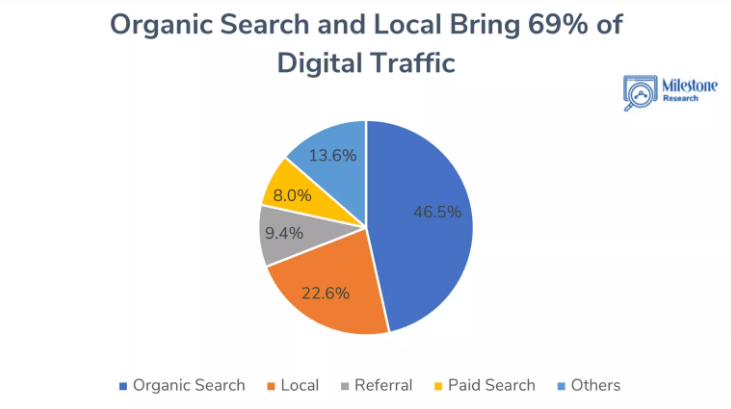 To arrive at this conclusion, Milestone studied more than 500 websites, nearly 180 million page views, and 63 million sessions between January 2020 and June 2021. They also made the distinction between location and non-location websites.
However, while organic traffic seems the most effective way to drive visitors to your websites, local search has the most conversion potential. For instance, according to the Milestone study, the revenue share for local traffic is at 25.5%, while pageviews stand at a respectable 28.6%.
You must be holistic in your digital marketing strategy, blending organic and local search with linking marketing and paid ads. As you can see in the following chart, blending your organic and local search will potentially give you about 69% in total traffic.
Another strategy that has gone largely unnoticed is high-quality links or referral, which brings in nearly 10% of the total traffic. Referral traffic refers to each page visit resulting from a link a customer follows from another website.
Meanwhile, paid ads are the amount you pay after bidding to place an ad on a specific platform or digital space. Ultimately, the business willing to get its hands dirty will likely succeed in securing referral traffic.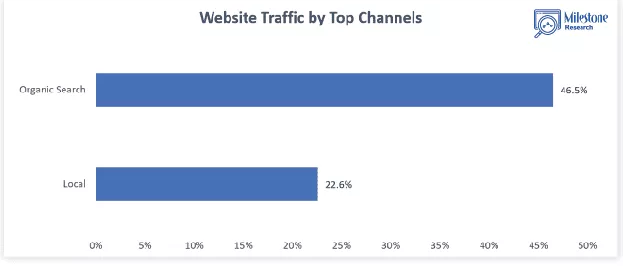 After all, getting organic mentions from trusted websites takes work. It's also why affiliate links are a precious commodity, as each successful referral gets a $100 pay.
Answer these Queries, and Improve Your Search Marketing Campaign Immediately
Another factor you need to be fully aware of is how customers behave when they search for products or services online.
Here are three crucial stats you must know:
The average consumer uses their mobile phone to search for an address of a local store half of the time.
About 53% go online to search for directions to find a local business.
Finally, more than 5 in 10 customers will search for business hours.

Now, if you redirected your SEO campaign to address those search queries, you already have a clear edge over your competitors. Of course, the assumption is you have already optimized your Google My Business (GMB) profile and have a pervasive presence across local platforms like Google Maps, Foursquare, Bing, and Yelp.
Six Techniques to Dominate Local Search Strategy
Make sure you follow these techniques.
1. Google My Business (GMB)
GMB is an easy way to boost your local visibility. Moreover, it has no paywall, so you can create your profile at no extra cost. From here, you can start pinning your location on Google Maps to ensure that your customers will find you.
Creating one is pretty straightforward. Google will guide you through the process, which is as follows:
Completely input the required information accurately
Write a description of your business
Fill in the information about your business hours
Select the appropriate business category
Choose all the required attributes
Corroborate your location
You also don't need a storefront to create a GMB profile so long as you can contact your customers in person.
2. Develop your website for SEO
One common mistake by small businesses is to DIY their website using free creators like WordPress. However, hiring experienced web developers is worth the investment, considering the potential returns. For instance, the average person thinks that websites are designed for businesses to reach their customers. But that's only half-true.
Developers design websites for Google and other search engines to properly index and archive your website. The process is called search engine optimization or SEO. Think of SEO as putting up neon signs for people to find your location in the wilderness.
They have different techniques to optimize your websites, including:
Reducing, if not eliminating, the use of Flash
Developing for mobile devices
Ensuring proper website architecture
Designing for easy navigation
Outlining the Descriptive URL
Optimizing videos and images
For instance, optimizing your image is a foolproof way to boost your traffic. The most common problem faced by websites is the slow loading time. The goal is to compress the images without sacrificing quality, especially if you are maintaining an e-commerce site.
Typically, image optimization involves four elements:
Compression level
File size
Height and width
Alt tag
A professional web developer will have a checklist of procedures to optimize your website for SEO. Unfortunately, small businesses focus too much on the potential expenses of hiring experts rather than the opportunities they miss out on. Image optimization aims to create high-quality images with the smallest file size. Three main elements play a role here:
3. Establishing local searches
What do your target customers look for when they conduct local searches? But, more importantly, what are the long-tailed keywords they type in the Google search box? You can use Google AdWords for trending local search keywords, which you can use for your content.
Analyzing your website traffic will also determine which keywords people use when stumbling upon your website. Knowing the local searches is crucial for your business since they often lead to purchases about 78% of the time.
The graph signifies that 7 in 10 customers who found your website through their phones will likely buy your product or hire your services.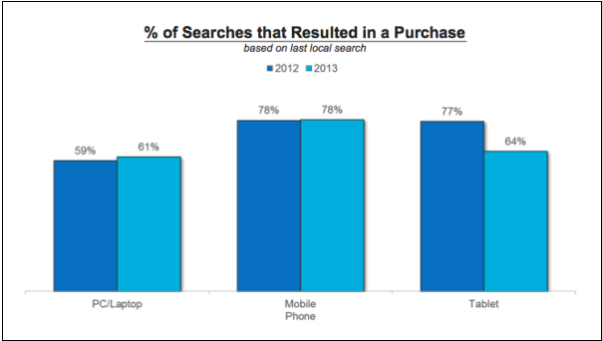 4. FAQs
Frequently Asked Questions allow you to engage your visitors without putting too much pressure on them to act. They will take down the hindrances to converting your visitors into customers.
The FAQs section is an easy way to build internal links, which improves your SEO score. It will also allow you to climb up the organic search rankings ladder by addressing general questions about your specific industry.
As you know, organic search makes up the bulk of the total website traffic. However, the FAQ section should answer all their pressing questions and give them a better understanding of your organization and how you can address their concerns.
The last thing you want is your visitors to walk away feeling cheated after reading your FAQs. So, not only should you have a FAQ page, it should have a prominent place on your website where visitors can easily find it.
5. Optimize for mobile devices
Optimizing means improving the user experience of your customers and prospects. The process involves several elements:
Fully responsive
Easy navigation
Fast loading time
Automatically adjusts for screen size
Image and text size
Google's algorithm is now gearing toward mobile searches. But the tech giant is only catering to a captured audience. For instance, 6 in 10 consumers use their smartphones to search online. So, if your website is not optimized for mobile devices, you will likely turn away many your prospects.

And remember, customers who find your website by searching on their mobile phones are primed to spend their money. Finally, you must optimize your website for voice search. Unfortunately, only about 27% of people now use Google Assistant, Siri, or any other smart app for their online searches. But it's better to be prepared when user utilization eventually catches up to voice AI technology.
6. CTAs
Call-to-Actions are statements that prompt the prospect to take the next step in the customer journey. If done correctly, CTAs simplify the sales process since they point the reader where to go, which is typically to follow your conversion funnel.
Among the examples of CTAs are:
Download our brochure here
Click this button to subscribe to our email list
Buy today and get a 20% discount on your initial purchase
Buy one, get one free
Book your reservation today and get some freebies
Get some freebies if you purchase in the next 24 hours
Learn more about our services by clicking here
You can write as many variations as you wish. But it is crucial to use strong verbs and clear sentences to avoid confusing the reader about what you want them to do.
Local search is a fundamental component of any effective digital marketing strategy. The marketing strategy is so critical that Google has a separate guideline dedicated to local SEO for businesses.
When you search Google, the search engine ranks the results according to three factors—Proximity, relevance, and prominence. As you can see, local search ticks all those three factors. So, if you design or overhaul your website, verify with your web developer whether the local search is optimized. It's too important to ignore continually.